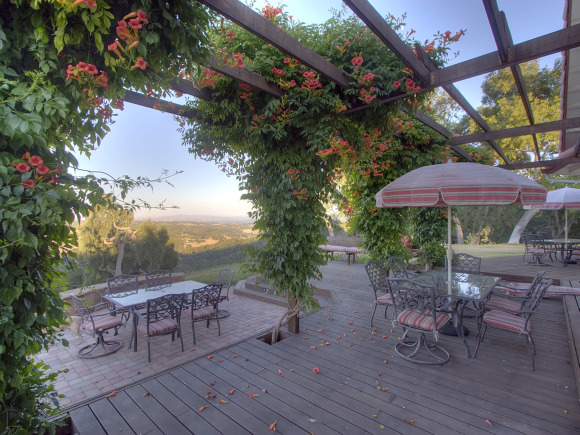 8470 Vineyard Ranch Way, Paso Robles, CA 93446
$ 1,999,995 CLOSED
This classic Westside property is privately situated on 118 acres in the hills of Adelaide. The gracious custom home was designed by the owner to enjoy both comfortable living and the spectacular views overlooking the scenic Vineyard Drive valley. The 3000 sq ft features an open kitchen perfect for entertaining as well as a separate master suite, guest room and visitor area. Almost every room highlights the stunning views and has French doors leading to the wraparound deck and lush grounds.
An established 21-acre vineyard, planted in Cabernet Sauvignon, Merlot, and Chardonnay, is the added bonus to this estate property. The majority of the grapes are under an Evergreen Contract and used to produce wines under the Cougar Ridge label while the balance are sold on an annual basis to established local wineries, such as Wild Horse.
Under the Williamson Contract (Ag Preserve) for reduced property taxes, the property also has two wells: an Ag Well (120+ gpm) and a Small Domestic Well (20+ gpm).
PDF Flyer